Power supply units are the unsung heroes of computer builds. They aren't sexy, and they don't really add to performance, but make no mistake — having a quality PSU maters. A low-quality power supply can lead to system instability, and even worse, fires. Yeah, it is never worth it to choose a PSU from an unknown manufacturer.
With all of that said, today, respected-maker ADATA unveils what looks to be a very nice power supply unit under its popular XPG (XTREME PERFORMANCE GEAR) gaming brand. Called "CYBERCORE," this PSU is offered in two wattage options — 1,000W and 1,300W. It is also modular, meaning the wires are removable, which is great for cable management.
ALSO READ: Logitech G PRO X SUPERLIGHT wireless gaming mouse now available in pink
"XPG CYBERCORE is the latest XPG and Nidec collaboration. It is equipped with an XPG VENTO PRO 120 PWM fan powered by Nidec for unmatched cooling efficiency. The Nidec fans feature a curved design that offers maximum effectiveness. The fans begin spinning with a zero RPM low-load mode until around 30 percent power load to initiate the fan spin. The design has two main benefits — prolonged fan life expectancy and most importantly it enables a compact form factor at only 160 mm length, one of the smallest in the Platinum category," says ADATA.
ALSO READ: Western Digital launches WD_BLACK SN770 PCIe Gen4 NVMe M.2 SSD for PC gaming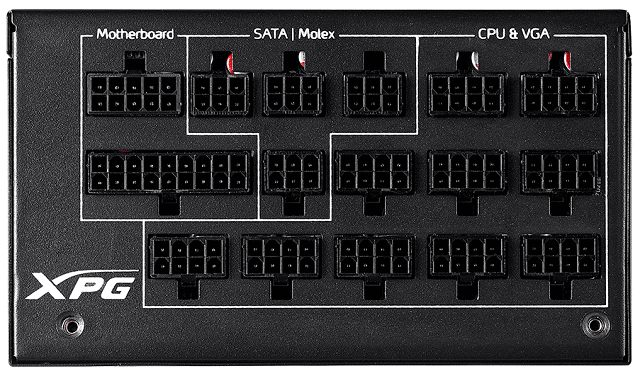 The company adds, "XPG CYBERCORE utilizes high-quality Japanese capacitors rated for 105°C and an advanced Interleaved PFC (Power Factor Correction) that regulates and stabilizes voltage, distributing power at optimal efficiency. Exploring the digital side of power, XPG added a Digital PMIC (Power Management IC) to help increase performance management and stability."
ADATA shares specifications of the XPG CYBERCORE modular power supply below.
Dimensions (L x W x H)
160 x 150 x 86mm
80 PLUS RATING
PLATINUM
ATX Version
Intel ATX 12V v2.52
Protections
OCP / OVP / UVP / OPP / SCP / OTP / NLO / SIP
Certification
CE / CB/ FCC(IC) / TUV / cTUVus / TUV S-Mark / NOM / BSMI / UKCA / EAC
PFC
>0.99
Input Voltage
100-240V
Input Current
1300W:15A
1000W:13A
Input Frequency
1300W:50Hz-60Hz
1000W:50Hz-60Hz
Operating Temperature
50°C
Fan Size
120mm
Fan Bearing
Dual Ball Bearing
Fan Speed
2,150 RPM
MTBF
120K hours at 25°C
ATX 24 Pin Connector
1300W:1
1000W:1
EPS 8 (4+4) Pin Connector
1300W:2
1000W:2
PCI-E 6+2 Pin Connector
1300W:10
1000W:6
SATA Connector
1300W:16
1000W:12
Peripheral 4 Pin Connector
1300W:8
1000W:4
Floppy 4 Pin Connector
1300W:2
1000W:1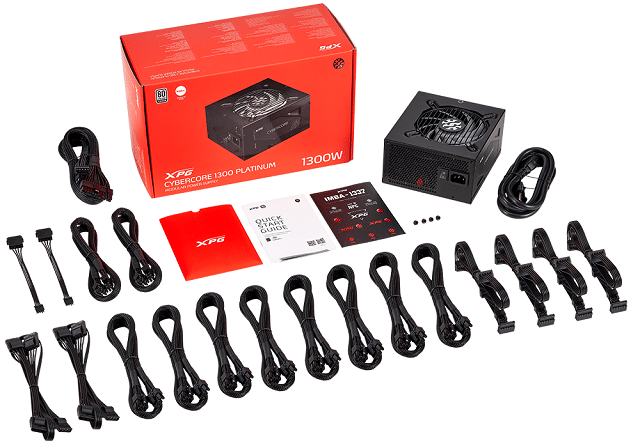 Unfortunately, the ADATA XPG CYBERCORE modular power supply does not seem to be available from any online retailers yet. However, it should be available here soon. Since ADATA has not yet shared pricing, we will have to wait to find out the cost. What we do know, however, is it will come with a respectable 10-year warranty.
Please note: Some of the above links may be affiliate links, meaning we, or our writers, may receive payment if you purchase one of these items (or other items) after clicking on them.