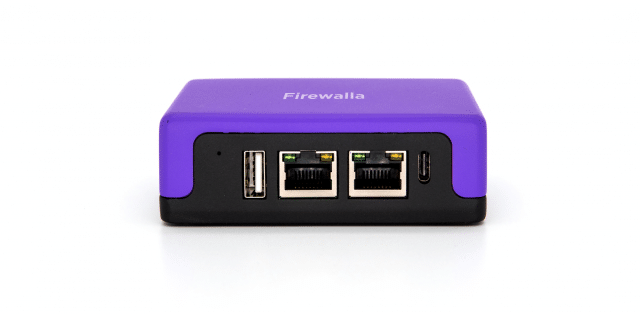 Back in July 2021 we reported on the announcement of the Firewalla Purple network protection appliance. It was due for release in December so has been subject to some delays, but from today it's finally available to buy.
Like other Firewalla offerings it's a compact portable device that you can take anywhere to deliver enterprise-grade protection, guarding against cyberattacks and offering advanced insights into your network.
"We created a piece of hardware that gives you full visibility into exactly what's happening on your home network and offers you simple ways to control it," says Firewalla's founder Jerry Chen. "This product has been tested and used in more than 100 countries, and now we get to bring a new level of security and control to everyone."
It works on gigabit networks and Firewalla's rules engine lets you take full control of your home network and block any port, domain, IP address, activity, or web page. These tools make parental control easy. With the tap of a button, you can restrict internet access, stop any devices from playing online games, block social networking or malicious and adult content, monitor online activity, and receive online activity alerts.
As with earlier devices you can connect the Purple to your router without any need to change existing wiring. But the Purple can also act as a router in its own right. This means you can connect it directly to your ISP modem or transparently bridge two networks together by inserting the device in the middle.
It's available to order now from the Firewalla site and retails at $319.