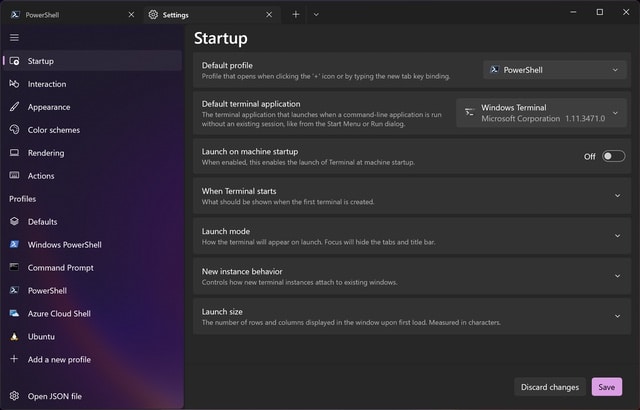 It feels as though it has been a little while since there was a new version of Windows Terminal, but Microsoft has now rectified this. The company has released Windows Terminal Preview 1.13 with an impressive list of new features, options and fixes.
There are a few particularly noteworthy changes including the introduction of a new text rendering engine. There is also a new Windows 11-style UI for Settings, and a newly added option to have a profiles automatically elevated so it launches as Administrator. But the list of changes and additions is much longer than this.
See also:
When it comes to the revamped Settings, Microsoft says that it is still "ironing out the kinks", so don't be entirely surprised if you notice the odd issue here and there. This is a preview build, after all.
Explaining the new profile elevation option, Microsoft says:
A new profile setting has been added called elevate that allows you to automatically launch a profile as elevated (as Administrator). When set to true and you are using an unelevated window, opening this profile will open an elevated window containing that profile. Otherwise, when set to false, this profile will open in the current window regardless of elevation. You can also hold Ctrl and click a profile in your dropdown to open it as Administrator.
In addition to the new rendering engine for text, Microsoft has also introduced a new customizable bell sound as well as various new actions. The company also shares the following changelog for Windows Terminal Preview 1.13:
Miscellaneous improvements
🛠️ The terminal now supports snap layouts in Windows 11!
🛠️ The system context menu now has an item to open settings (Thanks @serd2011!).
🛠️ The background image path is now displayed in the settings UI (Thanks @ianjoneill!).
Bug fixes
🐛 //wsl$/ paths and ~ should now work as the starting directory for WSL distros.
🐛 The Azure Cloud Shell profile can now be duplicated using the settings UI.
🐛 Adjusting transparency will no longer re-enable acrylic when disabled.
🐛 The AltGr + Space key combination should now work correctly.
🐛 AltGr should now work properly in the settings UI.
Windows Terminal Preview is available to download from the Microsoft Store or from GitHub.