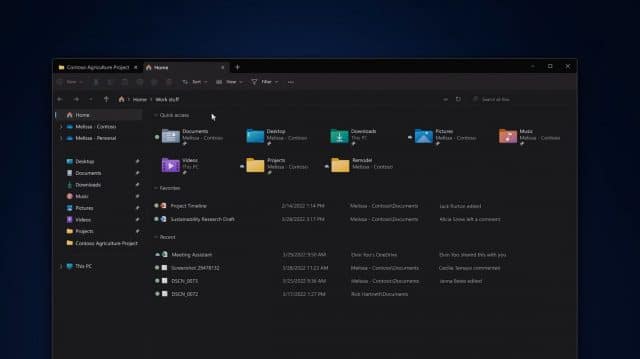 Today, at an event to showcase how Microsoft is developing new experiences to "enhance the way we work today, and in the future", the software giant gave us a look at some of the new features coming to Windows 11 in the near future.
While much of the presentation was about business, specifically hybrid working, Microsoft did cover experiences for consumers.
Windows Insiders in the Dev Channel will be familiar with many of these, including folders in Start.
The main highlight for many will be the refreshed File Explorer in Windows 11 which offers a new homepage, new favorites option, and contextual suggestions powered by Context IQ to make it easier to find the files you want. The long-awaited tabs addition to File Explorer, which you can see in the image at the top, will make it easier to multitask and find multiple files at the same time.
There are new features in Focus, including an integrated 'focus timer' and 'do not disturb' feature to track and personalize your focus time.
Snap layouts are great and make it easy to snap together multiple windows across your screen (or screens) and Microsoft is adding touch Snap layouts for touch-enabled devices. You almost wonder why it took so long for this to be a thing.
For the deaf and hard of hearing, there's a new Live Captions feature which can add captions from all audio experiences and apps across Windows.
You can see some of these features — and more — in action in the video below.