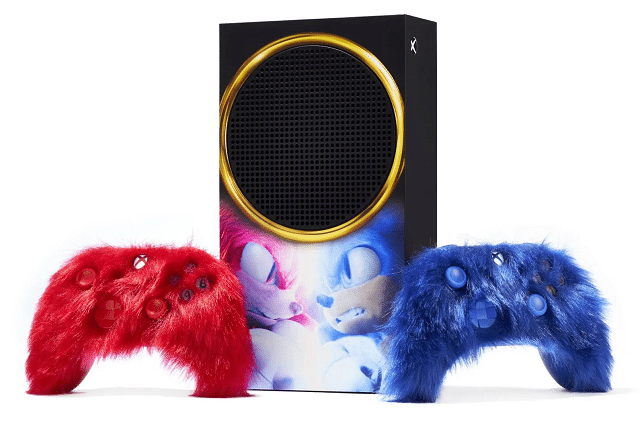 Microsoft unveiled the newest Xbox controller today and it is both gross and disturbing. As part of a promotion for the upcoming Sonic the Hedgehog movie sequel, a furry/hairy controller was created in two colors — red and blue. The colors represent Sonic (blue, duh) and Knuckles (red).
While the controllers look… interesting, they are sure to be very gross. Many gamers eat food while gaming, so you can only imagine all the Doritos and Cheetos dust that will get stuck in the fur. Not to mention, in long gaming sessions, your hands will sweat and cause the controller to get wet and smelly. Hell, this new controller could end up being ground zero for a future pandemic. Gross!
Thankfully, these abominations will not be mass-produced, as furry controllers are a terrible idea. You see, the only way to actually get the blue and red hairy controllers is to win them. Microsoft will give them away with a special limited edition Xbox S that is also designed to promote the upcoming film.
"The customized black Xbox Series S console features a golden portal ring shining on its surface alongside an embossed Sonic the Hedgehog 2 logo. With textured coatings reminiscent of the 'bristly' texture of hedgehogs in the wild, the new Xbox Wireless Controllers come in Sonic Blue and Knuckles Red," says Marcos Waltenberg, Director, Xbox Global Partnerships.
Waltenberg adds, "To catch these controllers, you better be faster than Sonic and more powerful than Knuckles! Xbox and Paramount Pictures have teamed up to celebrate the upcoming film 'Sonic the Hedgehog 2' to release a limited time only, custom Xbox Series S console and Xbox Wireless Controllers through two enter–to-win sweepstakes, inspired by Sonic, voiced by Ben Schwartz, and Knuckles, voiced by Idris Elba."
If you actually want to enter to win these limited-edition controllers and Xbox S, simply follow the instructions in the below tweet.