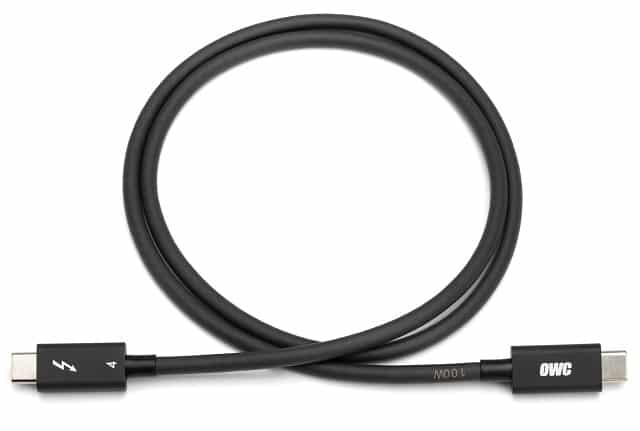 All USB and Thunderbolt cables are not created equally. Since these cables can carry both power and data, it can be quite foolish (and potentially dangerous) to choose one that is low-quality. The problem, however, is it can be hard to know which cables on the market are worth your time. You see, a higher price does not necessarily mean a cable is of good quality or safe to use.
OWC is aiming to solve this dilemma by releasing a premium Thunderbolt 4 / USB-C cable on which consumers can depend. In other words, you will be able to buy this cable and be confident that it meets all specifications and certifications. In fact, it is certified for up to 8K video, up to 100 watts power delivery, and up to 40GBb/s data transfer. Yeah, this a very nice cable, folks!
"No matter what kind of device or power level; be it a Mac, PC, tablet, or mobile device, the OWC Thunderbolt 4 / USB-C Cable never lets you down for your USB-C to USB-C connectivity needs. Contrast this with USB-type cables, which often carry no certification, have more limited and varying data speeds, and are not all rated and safe for the power level a system can demand. OWC Thunderbolt 4 cables take all the guesswork out for your USB-C to USB-C connectivity needs," says OWC.
The company further says, "From our research and first-hand experience, USB-C to USB-C cables are among the largest causes of technical support headaches. While many USB-C to USB-C cables 'look' and feel of quality, even being the highest quality USB cable doesn't mean it supports Thunderbolt or even high-speed USB-C 5Gb/s or 10Gb/s needed for modern USB-C docks and drives. This causes frustration, lost time, and lost productivity as devices fail to operate correctly, if at all, and with no apparent reason to the end-user. Using some USB cables for power connections is even dangerous when overpowering can risk excessive heat or worse."
The OWC Thunderbolt 4 / USB-C cable can be purchased here now. It is being offered in three lengths — 0.72M, 1.0M, and 2.0M. They are priced at $24, $34, and $57 respectively. Regardless of length, you get a respectable three-year limited warranty.