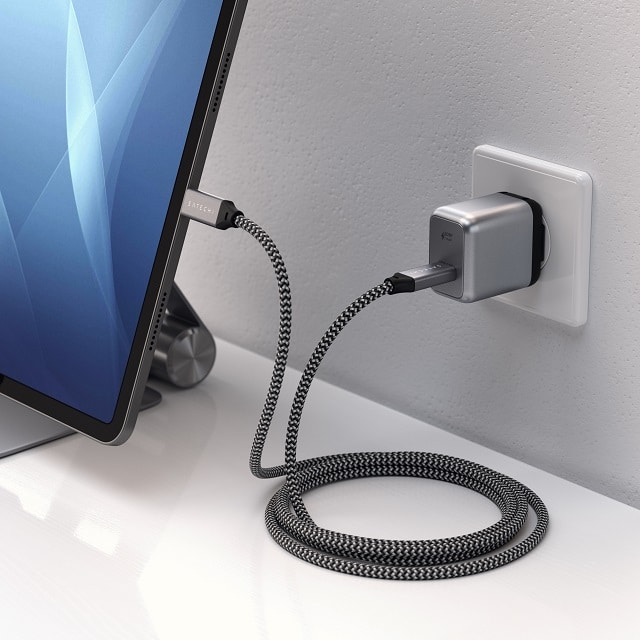 Are you a fan of USB-C? Yeah, me too. I love that you can insert a USB-C cable into the port without having to worry that it is the wrong orientation. Not to mention, the port is so thin that it allows computers to be thinner than ever before. No longer are manufacturers forced to accommodate the chunky USB-A ports.
If your laptop, tablet, or smartphone charges by USB-C, then I have some interesting news for you. Today, Satechi launches a 30W USB-C PD GaN wall charger and a beautiful braided USB4 cable. The charger is so, so cute and tiny while still offering 30 watts of power. While this wattage isn't ideal for laptops, it should be a great option for a phone or tablet. The aforementioned USB4 cable is USB-C to USB-C and offered in your choice of two lengths.
"The 10-inch or 2.6-foot USB4 C-to-C Cables feature a premium braided nylon construction to prevent breakage and an aluminum shell to effectively maximize heat dissipation, while the 30W USB-C PD GaN Wall Charger's upgraded GaN technology allows for a noticeably smaller, more compact design than others on the market. Measuring at just 1.81 by 1.06 inches, the charger also comes equipped with a convenient foldable wall plug for easy storage while on-the-go, making it the ideal choice for at-home work or travel," says Satechi.
ALSO READ: Apple Mac Studio is tiny yet mighty
The company adds, "The 30W USB-C PD GaN Wall Charger is equipped with ETL and CE certifications to provide a safe, yet effective, charge to connected devices up to 30W — 3x faster than the 5W chargers that accompany Apple products. Satechi's USB4 C-to-C Cables offer ultra-hi-res 8K HDMI output for a stunning display whether it is for working, streaming, or gaming. Simply connect a USB-C device to a USB-C monitor or docking station using one of these cables for the ultimate USB-C video cable support."
ALSO READ: Silicon Power unveils Marvel M02 USB flash drive
The 30W USB-C PD GaN wall charger can be purchased from Satechi directly here for just $29.99. The USB4 cables can be had here in either 10-inch or 2.6-foot lengths. The cables are priced at $24.99 and $29.99 respectively. But wait! Before you buy any of these new products, be sure to enter code CHARGER25 at checkout to save 25 percent. Satechi tells us this promo code will work until March 20.