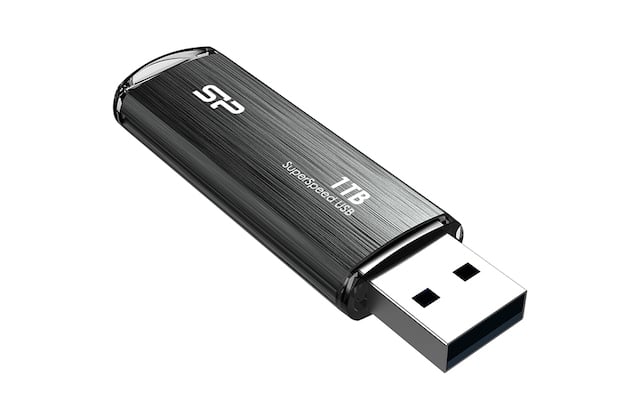 We recently told you about a new flash drive from Silicon Power that was rather unremarkable and ho-hum. Called "Marvel M02," it is your typical run-of-the-mill USB-A drive. Its lack of excitement is absolutely fine, however, as sometimes all you need is a basic flash drive for general use. Not every product has to be exciting.
Well, folks, there is yet another new flash drive from Silicon Power, and it is anything but boring. While its design is nothing special, its performance is. Called "Marvel Xtreme M80," this USB-A drive offers read performance up to 600MB/s and write performance up to 500MB/s. In other words, as its name implies, this drive is extremely fast!
ALSO READ: Plugable launches new USB video adapters
"With extreme read speeds up to 600MB/s and write speeds up to 500MB/s, the Marvel Xtreme M80 is our fastest USB flash drive yet. Compared to a standard UFD, that's 5.5x and 16.7x faster, respectively! Make the most of your time and copy huge files to the drive in a matter of seconds! For example, transfer a 5GB file from a PC to the drive in as little as 12 seconds," says Silicon Power.
ALSO READ: PNY XLR8 Gaming microSD card is perfect for Nintendo Switch and Valve Steam Deck

The company adds, "The Marvel Xtreme M80 is equipped with a Type-A USB 3.2 Gen 2 interface and a massive capacity of up to 1TB. With this much space, it's the only UFD you'll need. Add to that its portable-friendly design and simpler and quicker alternative to cloud storage, and you'll definitely want it by your side wherever you go."
Silicon Power shares specifications below.
Capacity: 250GB, 500GB, 1TBDimensions: 68.5mm x 17.8mm x 8.2mmWeight: 8.5gColor: GrayMaterial: Aluminum + PlasticPerformance Read (max.): up to 600MB/sPerformance Write (max.): up to 500MB/sInterface: Type-A USB 3.2 Gen 2 (USB 3.1 Gen 2, USB 3.1 Gen 1 & USB 3.0 & USB 2.0 backwards-compatible)OS Compatibility: Windows 10/8.1/8/7/XP, Mac OS 10.3.X and above, Linux 2.6.X and aboveOperating Temperature: 0°C – 70°CCertification: CE, FCC, BSMI, UKCA, KC, Green dot, WEEE, RoHSWarranty: 5 year limited warranty

As is typical with Silicon Power, the company is silent on both pricing and availability for this new product. In other words, we do not yet know how much it will cost or when it can be purchased. With all of that said, it should hopefully be available here very soon.
Please note: Some of the above links may be affiliate links, meaning we, or our writers, may receive payment if you purchase one of these items (or other items) after clicking on them.