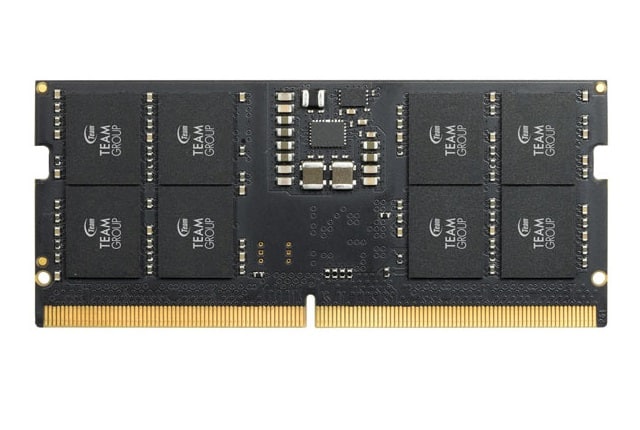 When you are a computer enthusiast, there are peaks and valleys when it comes to excitement about PC components. What do I mean by this? Well, sometimes you are using desktops and/or laptops with bleeding-edge parts as an early adopter, while other times you are using ho-hum components that have been around a while. For instance, we have been using DDR4 memory for about seven years now.
Thankfully, the age of DDR5 is finally upon us. After dealing with DDR4 for so many years now, we will soon see many PCs with DDR5 memory inside — including laptops and mini PCs that use SO-DIMM sticks. Today, TEAMGROUP unveils some impressive DDR5 notebook memory. Carrying the "ELITE " moniker, this RAM runs at an impressive 4,800MHz and comes in capacities ranging from 8GB (single stick) to 64GB (2x 32GB).
"ELITE SO-DIMM DDR5 Memory operates at the standard DDR5 memory frequency of 4,800MHz, which is up to 50 percent higher than DDR4's maximum of 3,200MHz. Furthermore, the standard operating voltage of DDR5 is 1.1V, a reduction from the 1.2V in DDR4 that can substantially reduce power consumption and extend standby times of laptops. These major improvements in performance and power efficiency greatly enhance the convenience of laptop use on the go," says TEAMGROUP.
ALSO READ: Mushkin launches Redline Vortex PCIe Gen4 NVMe M.2 SSD
The company further says, "DDR5 also has twice the burst length of DDR4, significantly increasing the amount of data that can be accessed in a single burst. Furthermore, DDR5 is equipped with unique Same-Bank Refresh command, allowing simultaneous data processing in multiple banks. Upgrading your laptop to DDR5 memory will significantly boost operating efficiency and storage performance, fully meeting your multitasking needs."
TEAMGROUP shares specifications for the ELITE SO-DIMM DDR5 RAM below.
Module TypeDDR5 262 Pin Non-ECC Unbuffered DIMMFrequency4800LatencyCL40-40-40-77Capacity8GB / 8GBx2 / 16GB / 16GBx2 / 32GB / 32GBx2Data Transfer
Bandwidth38,400 MB/s
(PC5 38400)Voltage1.1VDimensions30(H) x 70(L)mmWarrantyLIFETIME
Unfortunately, the ELITE SO-DIMM DDR5 RAM is not yet available from any online retailers. TEAMGROUP says the memory should hit stores in the middle of April. Estimated pricing can be seen below. Thankfully, April is right around the corner, and you will be able to buy the RAM here very soon.
CAPACITYMSRP (USD)1X8GB$69.991X16GB$139.991X32GB$275.992X8GB (16GB)$139.992X16GB (32GB)$279.992X32GB (64GB)$549.99
Please note: Some of the above links may be affiliate links, meaning we, or our writers, may receive payment if you purchase one of these items (or other items) after clicking on them.