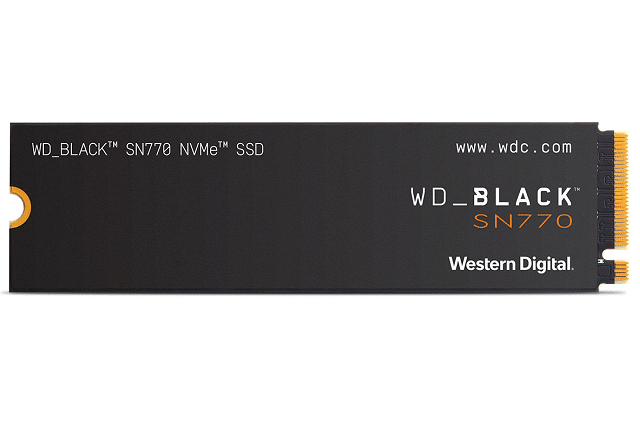 Do you need a PCIe 4.0 NVMe solid state drive? Probably not. I mean, nobody really needs the fast speeds these drives offer. However, the drool-worthy performance is certainly nice to have. Look, if you can afford such an SSD and your computer supports it at full speed, you might as well get one. I mean, why not?
Today, Western Digital launches its latest such PCIe 4.0 SSD. Called "WD_BLACK SN770," it features blazing fast speeds and capacities up to 2TB. While this SSD is designed for gamers, it should prove to be a solid choice for any and all storage needs. In other words, even non-gamers should check it out
"As game worlds become more immersive and place greater demands on our systems, gamers are looking for ways to optimize their rigs for intensive games and add storage for future updates and downloadable content. To help PC gamers play at their best, Western Digital just released its latest addition to the WD_BLACK portfolio, the WD_BLACK SN770 NVMe SSD. The new drive fuels gaming PC rigs with faster speeds and longer gameplay, offering up to 40% faster performance and up to 20 percent more power efficiency at maximum speed over the previous generation," says Western Digital.
The company adds, "The WD_BLACK SN770 NVMe SSD features a PCIe Gen4 interface that delivers ultra-fast read speeds of up to 5,150MB/s (1TB and 2TB models only) to fuel in-game responsiveness, minimize stutter, and provide smooth streaming for a performance boost that gamers can see and feel. The drive is an accessible option for gamers looking to transition to Gen4 while also being backwards compatible for those with Gen3 systems. Purpose-built for PC gaming, it's an ideal solution for enthusiast PC builders and long-time gamers looking to elevate their gaming experience."
While all capacities carry the SN770 name, the read/write performance varies based on the capacity you choose. Western Digital shares those numbers below.
250GB (WDS250G3X0E) — Read: 4,000MB/s Write: 2,000MB/s500GB (WDS500G3X0E) — Read: 5,000MB/s Write: 4,000MB/s1TB (WDS100T3X0E) — Read: 5,150MB/s Write: 4,900MB/s2TB (WDS200T3X0E) — Read: 5,150MB/s Write: 4,850MB/s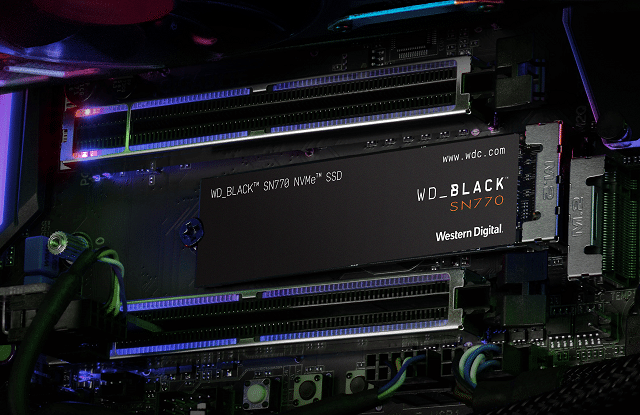 The WD_BLACK SN770 solid state drive can be purchased from Western Digital directly here now. As previously stated, the PCIe Gen4 NVMe M.2 SSD is being offered in four capacities — 250GB, 512GB, 1TB, and 2TB. They are priced at $59.99, $79.99, $129.99, and $269.99 respectively.