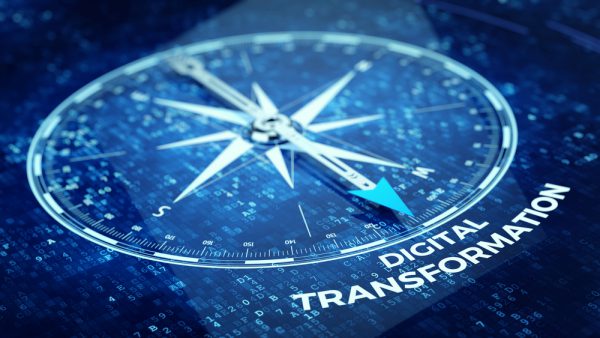 In the era of fast business, organizations face increased pressure to continually improve and rapidly iterate on their digital transformation strategies. Nearly 70 percent of companies cite digital transformation as their top IT priority, while McKinsey estimates that COVID-19 has sped up digital adoption by seven years.
While the urgency to transform increases, 90 percent of businesses report that they face at least one barrier in their efforts to drive digital change. But what does this really mean and how can an organization achieve their digital ambitions in the era of fast business?
Along the digital journey
A significant focus of 'digital transformations' is the need to create a variety of online user journeys, all with varying degrees of complexity. These could be anything from the onboarding of a new customer to a legal or financial firm, an NHS patient moving through a cancer care program with multiple consultants and specialists, or a utilities customer registering and paying bills. Almost every successful digital user journey has the same three constituent parts:
The digital front door — a fantastic user experience primarily driven through an app or a portalThe information gatherer — a deep integration into the organization's underlying systems and data stores that delivers the right data needed to complete the digital journeyThe conductor — an orchestration and automation layer that uses business logic to surface this information to the user at the right time and for the specific use case 
Delivering on each of these in isolation is within the grasp and capability of most organizations, though it will require considerable skilled time and resource. However, bringing the three components together presents a significant barrier to achieving true digital transformation. They must be delivered through a comprehensive and complex technology stack, with little commonality between the systems and technologies. When you factor in the ongoing demand from the business to deliver faster and frequent innovation with fewer resource, you create a scenario which keeps even the calmest CIO or IT director awake at night.
Making sense of things
Business and IT leaders know that accelerating innovation and digital transformation is key, but this must also be financially viable, delivered in days and weeks, not years, and be as non-invasive as possible. Replacing the current system is often too costly and timescales rarely line up, so a better solution is to create a 'digital veneer' around the existing IT environment.
Against this backdrop, Gartner recently identified twelve top technology trends it expects to accelerate digital business and innovation over the next three to five years. Let's take a closer look at the top three we think will have the biggest impact:
Total experience: Total experience is a business strategy that brings together customer, employee and user experience across multiple touchpoints to accelerate growth. To achieve total experience, it's crucial that the three components mentioned above work in combination, not silos. Businesses must bring data, processes and user interface together, irrespective of the underlying organization and data complexity. Abstracting the user experience from the complexity of the underlying systems and processes is the goal, which requires several technologies to work together seamlessly. This abstraction allows the user experience to be completely expansive and aligned with the business outcome.  Hyperautomation: In many organizations, automation or RPA has been effective in removing significant amounts of manual, repetitive IT work, though often only for one off processes. Hyperautomation is a powerful tool when it's deployed as part of a wider solution, acting as the glue between front end applications and the underlying data and systems to enable a seamless digital experience. For example, with hyperautomation, a customer service agent can process a customer's request to update their details faster by automating the processing of information to underlying systems.Data fabrics: Organizations are looking for a way to provide flexible, resilient integration of data sources across platforms. This will enable them to harness the data they have for new functionality, unlock insights to inform business decisions, and understand how to better service customers. The goal of data fabrics is to sit atop different systems and enable organizations to overcome the data silo challenges they face and get more value out of their information. This is an important endeavor, as removing data access and silo issues is a key facet in enabling organizations to meet their digital ambitions.
Finding a solution
With any technology trend, there are two key considerations: the impact of the specific technology and how it interacts and integrates with adjacent systems. The barriers to digital transformation are often based around how to make these different technologies work together, and how to integrate them into the existing systems and data sources within the organization.
For businesses to be able to deliver on their digital ambitions and provide a slick, seamless digital user journey, they need to bring together a discrete set of technologies — this means bringing total experience, hyperautomation and data fabrics together. To do this, organizations can look to a no code application development approach that combines apps, automation and integration. End-to-end digital user journeys can be built 20 times quicker without coding, and combining the user interfaces, logic paths and data flows in one development approach gives enterprise developers the freedom to deploy their skillsets without spending their valuable time trying to integrate the different technology platforms and writing high code.
Reaching the end-goal 
Digital transformation is a business imperative, but it can be hard knowing which combinations of trends and technologies can actually help achieve digital success. Combining new technologies configured through a single no code application development approach allows organizations to focus on creating high-quality digital journeys without the headache of integration. This enables them to meet their digital ambitions and to deliver comprehensive user journeys in a shorter timescale — imperative in the era of fast business.
Photo Credit: Sashkin/Shutterstock
Mat Rule is CEO & Founder at Toca.