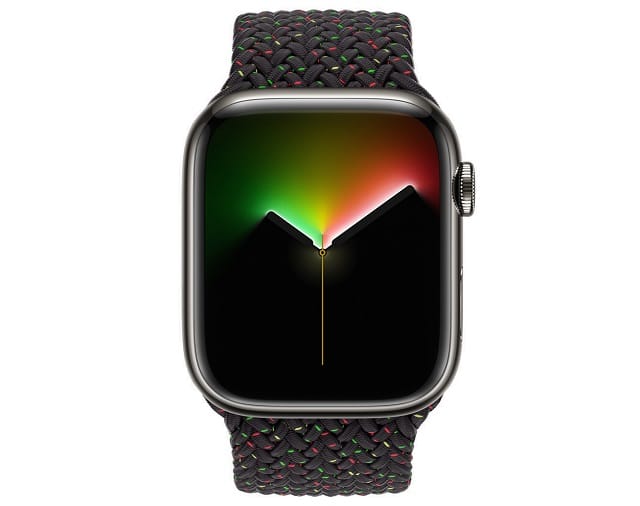 African-American history is American history. The USA would not exist as it is today without the contributions made by countless black people — that is a fact. And so, every February, we all collectively celebrate Black History Month by recognizing many great Black Americans such as Harriet Tubman, George Washington Carver, and Barrack Obama to name just a few.
Today, Apple announces a new product designed to let consumers show their love and respect for black people. You see, the Apple Watch Black Unity Braided Solo Loop is a beautiful new watch band that uses colors from the Pan-African flag and looks quite stylish.
"Designed by members and allies of the Black creative community at Apple to celebrate Black history and culture, the Apple Watch Black Unity Braided Solo Loop and matching Unity Lights watch face honors generations of Black people across the African diaspora. This design symbolizes a communal belief in the necessity for a more equitable world. The vibrant red and green colors of the Pan-African flag appear like speckled light across the black band," says Apple.
ALSO READ: Apple Watch Series 7 has a larger screen and greater durability
The iPhone-maker adds, "The band is complemented by the Unity Lights watch face, which is designed using 2D ray tracing, a technology never before implemented for a watch face. Each pixel on the screen simulates the light and shadow falling across it and the movement of the clock hands simultaneously reveal and hide the light, changing dynamically throughout the day. The Unity Lights watch face can be customized to be a full screen or circular dial, and includes a black and white option, tick marks, up to four complications."

Do you have to be African-American to wear the Apple Watch Black Unity Braided Solo Loop or use the Unity Lights watch face? Obviously not. Anyone that wants to show support for black people and equality can proudly show them off. This new Apple Watch band can be ordered here now for $99 and should be delivered at the beginning of February.