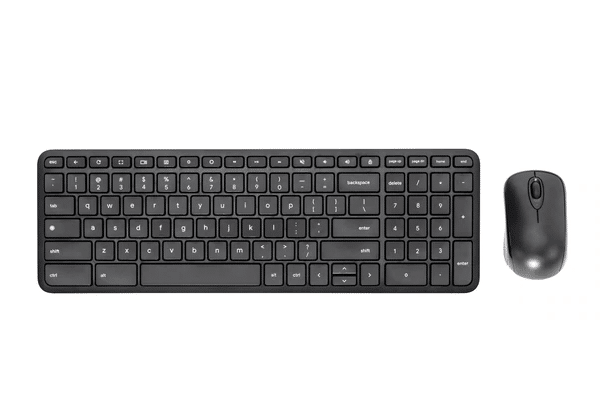 If you have a Chromebook or other Chrome OS device, and you want to use an external keyboard and/or mouse with it, pretty much any of them will work. Whether the keyboard and/or mouse connect via USB or Bluetooth, they should be compatible with Chrome OS — even if support is not listed by the manufacturer.
With all of that said, why are some accessories officially certified as "Works with Chromebooks?" The simple answer is, marketing — especially when it comes to mice. For keyboards, however, there can be value in having a layout designed for Chrome OS rather than Windows or Mac. Such keyboards can be hard to find.
Today, CTL launches a wireless keyboard and mouse that are certified to work with Chromebooks. The mouse is rather basic and nothing to get excited about, but the keyboard looks like a rather nice option for Chrome OS users. It is lacking a CAPS LOCK key, instead offering the Chrome OS "Everything Button." This will make the layout familiar for Chrome OS users.
ALSO READ: OWC launches premium Thunderbolt 4 / USB-C cable in three lengths
The company explains, "The CTL keyboard includes the Everything Button. It's one button to search Google, Google Drive, apps, files, and more, quickly and all from one place. Other unique keys include the full screen, overview, and screenshot buttons. The keyboard's slim profile and minimalist design save space and promote ergonomic advantages. Quiet keys make for a comfortable typing experience and a number pad with 15 FN keys allows easy data input and shortcuts."

Both the keyboard and mouse connect wirelessly with Bluetooth 5.2, so no USB ports on your Chromebook or other Chrome OS device will be used by them. They are both powered by two AAA batteries and offer around two years of usage before the batteries will need replacing. So no, they are not rechargeable.
You can pre-order the wireless keyboard here for just $29.99. The mouse is not being sold separately — the pointing device is instead only being offered bundled with the keyboard here for $39.99. In other words, if you are buying the keyboard anyway, the mouse will only cost an extra $10. Even though the mouse is very basic and unremarkable, you still may want to get it at such a low price.